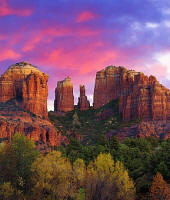 Hotel San Carlos
If you are a visitor to the scenic state of Arizona, plan a unique ghost-hunting adventure
and stay at one of Arizona's historic haunted hotels. And if you are a resident of Arizona, get to
know your state's spookier side and embark on an exploration of the unexplainable and
visit one of Arizona's very own haunted hotels. One of their most haunted hotel is the
historic Jerome Grand Hotel in Jerome that is home to an elevator that moves up and down
by its own accord.
---
Hotel San Carlos
202 North Central Avenue, Phoenix, Arizona (602) 253-4121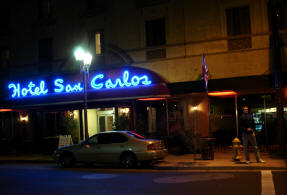 Situated in the heart of downtown Phoenix, the Hotel San Carlos is a quaint boutique hotel, or should we say, a real boo-tique hotel! Having been a guest there a few times, I sadly did not have the pleasure of a ghostly encounter, however, this hotel is reported to be an actively haunted place.
Historically, the Hotel San Carlos was built on the site of Phoenix's first elementary school. A well was dug for the school in 1874, tapping into a spring that had been considered sacred by the Native Americans for centuries. This well still operates in the hotel basement today. Native Americans used the ground and underlying water sources as a site for worshipping the God of Learning. Consequently, guests visiting the San Carlos claim to feel the spiritual aura of the historic water flow. Perhaps this is attracting the ghosts.
So who are these ghosts?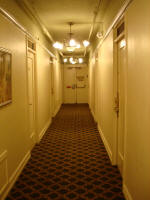 Three noisy young boys have been heard running through the halls of the San Carlos.
Unexplained sounds of children laughing and playing. Perhaps the ghostly presence from the original elementary school.
The spirit of Leone Jensen, who committed suicide at the San Carlos on May 7, 1928 by jumping off the roof of the seven-story building. She was heartbroken about a bellboy from a nearby hotel. You'll know you have seen her if you see a white, cloudy figure accompanied by an eerie moaning noise.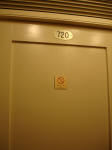 Addendum: I just returned from a visit at the San Carlos in February 2008, and was more specifically informed that the female ghost - the one who jumped from the seventh floor jumped from Room 720.
Unfortunately, someone was occupying Room 720 at the time so I could not get any pictures from inside the room, or pick up any vibe within the room. Also, I did not get any vibe outside the room. However, I did get some pictures of the door and hallway.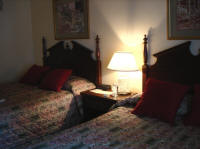 I did stay in Room 616 but experienced no paranormal energy. However... the room I was first booked in, Room 625 had such a bad, dark and heavy energy, my fiancť requested a new room. Room 616 felt "ok."
Please use the following link for the Hotel San Carlos to learn more about this historic
boo-tique hotel: Hotel San Carlos
---
Jerome Grand Hotel
P.O. Box H, Jerome, Arizona (928) 634-8200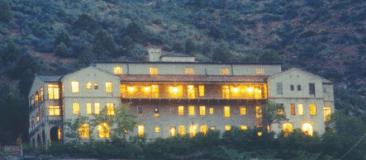 Located in the historic ghost town of Jerome, you must visit the Jerome Grand Hotel if you want to experience a ghostly encounter. Before it became the Jerome Grand Hotel, it was once a hospital and asylum called the United Verde Hospital. The UVH was built in January 1927 and closed its doors in 1950. However, in 1994, it was bought and restored to what it's known today - The Jerome Grand Hotel. It is said to be one of the most haunted buildings in Arizona, perhaps due to its days as a hospital and asylum.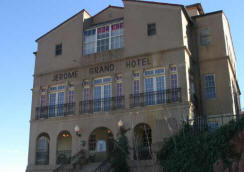 There have been many unexplained happenings at this establishment. Some of the strange occurrences are listed below:
Sounds of coughing and moaning from patients once treated at the former hospital.

A man named Claude Harvey was killed by being crushed beneath the elevator. Now it is said that the elevator mysteriously goes up and down at night with nobody in it...at its own will...

A woman in white roaming the halls.

Doors opening and closing on their own.
Please use the following link for the Jerome Grand Hotel to learn more about this grand haunted place: Jerome Grand Hotel
---
Hotel Congress
311 East Congress St., Tucson, Arizona (520) 622-8848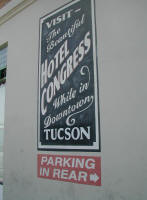 The colorful Hotel Congress is an old western boutique hotel located in the sleepy downtown section of Tucson. Itís famous for its coffee shop, the Cup Cafe and its club, the Tap Room, which attracts many musicians. This amazing hotel is even pet-friendly! Love it! Hotel Congress just has that edgy, hip feel to it. However, what isnít so obvious to its guests is its paranormal edge. Yes, the Hotel Congress is haunted.

I was there in the blazing summer heat in August 2002. At the time, I wasnít even aware it was haunted! Sure, it had an old lived-in feeling, so I am not surprised that itís reportedly haunted by spirits. Unfortunately, I didnít experience any spirits. Once again, the ghosts dodged me! Yet, their collection of local art work didnít, and I plunked down some good cash for some art.

Back to the ghosts. Hereís the scoop: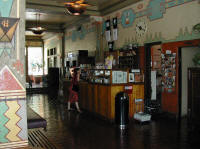 There have been sightings of a female ghost clothed in Victorian dress that floats about the stairwell and lobby (left). She is said to smell of roses.

A male spirit named T.S. wears an old-fashioned suit who can be seen peering out the 2nd floor windows. They say he may have been a victim of a gunfight over a card game.

Room 242 is reportedly haunted by a woman who shot herself in the bathroom after a police standoff. She has been seen by the bathroom and just outside the room. Guests have reported noises and nightmares while staying in this room.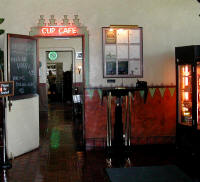 There is even a ďnew and shinyĒ spirit, the hotelís beloved Vince, who was a permanent resident for 36 years until his died in 2001. Hotel staff members have since been finding butter knives from the Cup Cafe (right), like the one he used for a screwdriver, in various locations around the 2nd floor.
Please use the following link for the Hotel Congress to learn more about this colorfully haunted hotel: The Hotel Congress

More Information:
Haunted Arizona
Great informational books about ghosts and the macabre in Arizona state and surrounding Western states: