The Palmer House Hotel has been featured in the Minnesota Monthly as well the Travel Channel's Ghost Adventures.
Please use the following link for the Palmer House Hotel to learn more about this amazing hotel which is practically run by its resident ghosts!: www.thepalmerhousehotel.com
---
Thayer's Historic B &B
60 West Elm St, Annandale, Minnesota (800) 944-6595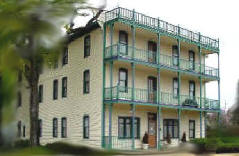 Thayer's Historic B & B sure seem to be one of the friendliest bed & breakfasts around! They are people-friendly, cat-friendly, and even ghost-friendly. They really seem to have a good 'old time over there at Thayer's. Located in Annandale, Minnesota, Thayer's is about 60 miles northwest of Minneapolis.
Thayer's was built in 1895 by Gus and Caroline Thayer and they say both Gus and Caroline still visit often - well, at least in the form of spirits! Gus has been known to leave pennies for the owners or staff to find. A number of other ghostly guests from the other side are reported to visit on a regular basis as well.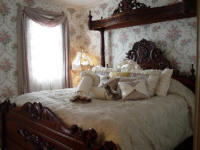 The following is an actual excerpt from a guest regarding their friendly encounter with a rather sweet ghost at Thayer's:
"I also wanted to tell you that I still have this feeling of calm, tenderness, and happiness from our room. I got the distinct feeling that our room was being protected from this wonderful woman (Adeline is who I thought, I hope that I got that right!).The petting on my hair to get me to sleep was beautiful. The last time I was there I had a hard time sleeping and I saw a white figure come in the door and raise a hand toward me and I fell fast asleep. It seems that your ghosts want me to relax!"
Besides being a welcoming and cozy inn, Thayer's also hosts ghost hunts, psychic readings, murder mystery dinners, and a paranormal package for two nights! The inn is even home to some ghost kitties! Here is what they have to say about their resident kitties from the other side:
"Professor Herald - Purrs really loud - Last month's Ghost Hunting 101 class got a photo of our Professor Herald Kitty in Gus' room - Room 207"
Ghost Kitty - was the first of our kitties from the other side to introduce himself. He likes to sit on your bed and he leaves an indentation where he has been. Some of our guests have seen him in the living room.
Thayer's is proud to announce they are listed in another new book! Chad Lewis' 'Haunted Locations in Minnesota' It's a travel guide. They are also in A Ghost in My Suitcase by Mitchell Whittington, also a travel guide. Both books have some fun stories and great locations to visit.
Please use the following link for Thayer's Historic Bed & Breakfast to learn more about this fun and ghostly country inn: http://www.thayers.net (website temporarily disabled)