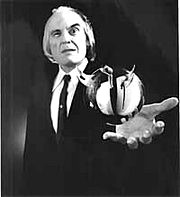 The Tall Man

Jebediah Morningside

The Tall Man – a vacationing space alien working full-time on planet earth as a supernatural undertaker – is on a mission to recruit dwarf-zombies as slave labor. Well, if you plan on world universal domination, you need some back-up. And why go through all the hard work of killing people when you can have your very own dwarf-zombie army do it for you?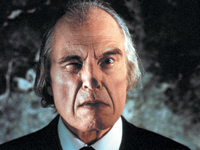 But it isn't easy recruiting dwarf-zombies – The Tall Man has to first acquire a corpse (so he did have to get messy as some point with a starter corpse), shoot them up with yellow liquid, shrink them down, and voilá – a mean and nasty little dwarf-zombie. Working in a mortuary, it's a virtual smorgasbord for the The Tall Man. He also likes to play with killer spiked silver balls and has a penchant to shout "B-o-o-o-o-y!"

The Tall Man is a morose, creepy guy. He's rather quiet and calm, likes to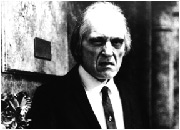 take his time. He certainly is not colorful and flamboyant like Freddy. Has the occasional outburst. He is not overly bloodthirsty as some of his counterparts, but he is quite dogged when he sets his sights on you. Case in point: Mike Pearson. He also likes a good challenge, as with Reggie. He actually allows him to live in Phantasm IV, sort of giving his worthy adversary his due respect.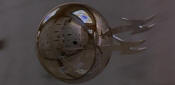 Killer flying silver spheres called Sentinels. These nasty little balls come equipped with sharp blades and a drill that target the victim's brain. It wasn't until Phantasm III that the silver spheres were given the name Sentinels.
The Tall Man also uses his dwarf-zombies, otherwise known as Lurkers since Phantasm III. Lurkers are created from the bodies of the dead and serve their master by killing people. More dead people means more potential dwarf-zombies.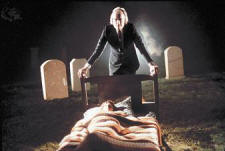 We also wonder if it is indeed a Tall Man tactic to to keep Mike guessing whether or not he has been dreaming (right), because we see this recurring theme in all of the Phantasms. "Was I only dreaming?" Mike constantly asks himself. It sure seems to leave Mike vulnerable. That clever and sneaky Tall Man.

The Tall Man wears your basic morbid mortician clothes – a black suit and tie.

Any human body will do. Does not discriminate. However, he has a particular penchant to get that "B-o-o-o-o-y", Mike Pearson.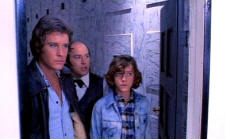 In the first Phantasm, Mike Pearson (Michael Baldwin) and his older brother, Jody (Bill Thornbury) proved to be nuisances. However, it's Jody's musician, ice-cream truck driving friend, Reggie (Reggie Bannister) that really gets under The Tall Man's skin. However, only Mike and Reggie escape The Tall Man – did Jody really die in a car accident or at the hands of The Tall Man? In the following sequels, both Mike and Reggie continue to fight The Tall Man.

Michael Baldwin played Mike in every Phantasm except for Phantasm II. Mike was played by James LeGros in the second sequel. Reggie Bannister (left) played Reggie in all the Phantasms.
Reggie Bannister's hometown of Long Beach, California is near the very site where many scenes of the "Phantasm" films were shot.
Banister's parents were used as extras in the funeral scene.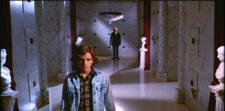 Any and all mortuaries. Morningside Funeral Home (right) is the first one we know of. He is also known to travel to other towns and mortuaries and render them into ghost towns, such as Perigord, Oregon, Holtsville, Boulton. Occasionally visits Death Valley and the Funeral Mountains.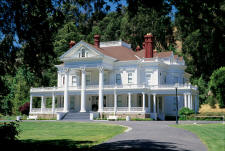 The historic Dunsmuir House (left) in Oakland, California was used for the exterior shots of the mausoleum.

Sunnyside Cemetery and Mausoleum in Long Beach, CA was one of the inspirations for Morningside's name. The early funeral chapel scene and the shot of Jody's grave at the end of the film were both filmed at Sunnyside.
Today, Sunnyside is known as Memorial Chapel at Forest Lawn.

The Phantasm theme, of course. This chilling music was created by composers Fred Myrow and Malcolm Seagrave and can easily rival the creepiness of Halloween's or The Exorcist's. We think it's the creepiest of them all.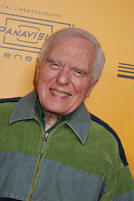 Angus Scrimm. He appeared as The Tall Man in Phantasm and all three sequels, as well as the impending 2008's Phantasm V. Scrimm's real name is Lawrence Rory Guy. Just doesn't have the same effect as "Angus Scrimm." He must have thought so too because he changed it to Scrimm for his role as The Tall Man.
Why choose "Scrimm" as a stage name? Angus said he could not find it in any of the phone books of major U.S. cities at the public library.

During Tommy's funeral, Mike spies The Tall Man single-handedly lift the heavy coffin into the hearse. Does The Tall Man eat a lot of spinach or is he supernatural? We vote for the latter.

When hurt, The Tall Man bleeds yellow "blood."
At an antique shop, Mike comes across an old photograph (right) of The Tall Man riding an old-fashioned hearse – which eerily comes to life! When the Tall Man suddenly turns and looks at him, you know something just ain't right.


How tall is The Tall Man?
Angus Scrimm measures 6' 4". Not exactly a basketball player, but next to many actors, that's pretty damn tall.



Who did Angus Scrimm model The Tall Man after?
The Grim Reaper