6404 South State Road 135, Nashville, Indiana (812) 988-2273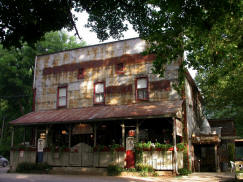 Located in southern Brown county, The Story Inn is Indiana's oldest country inn - and famously haunted and fun! This quirky thirteen-room inn even boasts a haunted room - The Blue Lady, named after the inn's local ghost. We quote from their website, "The Blue Lady can supposedly be summoned by turning on the blue light next to the bed." We just love this inn's spunk!
There are tales of staff and guests seeing apparitions and objects moving. In the mid 1900's, guest books were left for guest to leave comments. Strangely, many of the comments mention the Blue Lady ghost and several of the accounts were very similar in nature. The following (from the Story Inn's website) is a guest experience in The Blue Lady room:
"I am visiting the Story Inn for a vacation. I had not heard of the Blue Lady before I came... At six a.m., from a foggy dream, I was awakened. There were two distinct calls, calling my name. The voice was friendly, but firm. I waited a few seconds and went to the door, opened it and no one was there. I checked later with the staff to see if someone had called me. No one had."
Barbara, Bloomington, IN June 3, 1997
.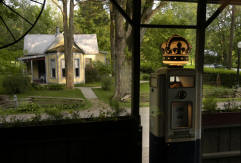 Please use the following link for The Story Inn to learn more about this fun and ghostly country inn: http://www.storyinn.com