21982 Hawk Drive, Bentonsport, Iowa (319) 592-3133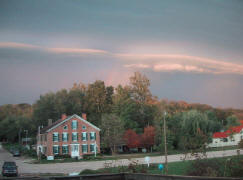 Mason House Inn really takes its ghosts seriously. Besides providing charming rooms for its guests, the owners also provides ghost hunting classes, murder mystery weekends and Halloween ghost walks.
Mason House Inn, located in Bentonsport, also has a very rich history. It has survived five majors floods and was a station on the Underground Railroad!
So why do ghosts haunt the Mason House? Well, it's not too surprising since three of its owners has died on its premises and one guest was murdered there as well! Today, the owners claim that The Mason House has five ghosts who regularly stay there. Some guests report seeing a foggy image and an old lady in a nightgown visiting them. The following is what someone experienced in Room 5:
"We know a doctor died in Room 5 in 1940 of diphtheria. He was renting that room when it was a boarding house from 1920s to 1951. When the previous owners were re-wallpapering in Room 5, they would find all the paper stripped off. They would put it back up, only to find it stripped again the next morning. On the third morning they found the wallpaper sample book on the floor and laying open to a certain page. They bought that wallpaper and put it up. The paper stayed in place and is still there."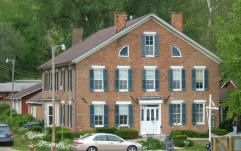 Please use the following link for the Mason House Inn to learn more about this historically haunted Inn: http://www.masonhouseinn.com
---
Photo credits: Aurora Borealis at Saylorville Lake north of Des Moines, Iowa by Stan Richard