633 Main Street, Deadwood, South Dakota (605) 578-1745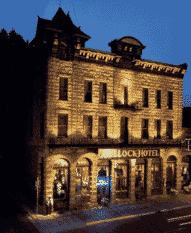 The Bullock Hotel is a throwback to the old frontier days. It was founded by Seth Bullock, Deadwood's first sheriff. He rode into town with friend, Sol Star from Montana and opened up a hardware store. They eventually built a hotel over the hardware store and warehouse, which is The Bullock Hotel. Even back then, it was considered luxurious: 63 beautifully appointed rooms, a fine restaurant, a gentleman's bar, and a large lobby with red velvet carpeting, brass chandeliers, oak trim and a Steinway grand piano. Nowadays, it still retains its luxury - with the addition of a casino and Bullock's ghost.
Bullock's ghost has been witnessed by nearly three dozen people, including guests, staff and managers. Reports include feelings of a strong paranormal presence inside several of the rooms and in the hallways of the second and third floors, as well as in Bully's restaurant, and in Seth's Cellar.
Some reported to have actually seen the tall ghost of Bullock. Other incidences include plates and glasses shaking and taking flight in the restaurant, lights and appliances, such as alarm clocks and televisions turning on and off by themselves, and showers turning on by their own accord. They say that Bullock's ghost wants to ensure that the staff is working hard, as paranormal events tend to increase when staff members stand idle, whistle or hum a tune. Some have even thought they heard the voice of Bullock's ghost calling out their name.
The ghost legend is so entrenched at The Bullock Hotel that it has even been the subject of the popular TV show Unsolved Mysteries.
And happily, The Bullock Hotel offers a ghost tour for those that want to hear more of the story and see the places where paranormal activity have occurred.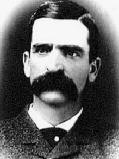 Please use the following link for The Bullock Hotel to learn more about this wild and ghostly frontier hotel: http://www.heartofdeadwood.com/
Seth Bullock
---
Source: