---
"In each of us, two natures are at war - the good and the evil. All our lives the fight goes on between them, and one of them must conquer. But in our hands lies the power to choose - what we want most to be, we are."
Robert Louis Stevenson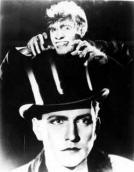 The much parodied character(s) of Dr. Jekyll and Mr. Hyde originates from the book Strange Case of Dr. Jekyll and Mr. Hyde written by Robert Louis Stevenson in 1886. Some believe the book to be an analogy of what we know to be a spilt-personality today. This classic book illustrates the devastating implications of a split-personality gone completely mad. The good and humane guy is Dr. Jekyll whereas his counterpart, Mr. Hyde is evil and murderous.
It can be said that Dr. Jekyll is on an "inward journey of self-discovery" – discovering the good and bad nature in each and every one of us. And to facilitate the process, he taps into his bad side with the help of a potion. However, he soon learns he is able bring about his evil ways without the aid of his magical meanie juice.

Dr. Jekyll and Mr. Hyde also touches upon the theme of experiment gone awry – Dr. Jekyll's theory that his potion would only polarize both his bad and good sides did not work. It only exacerbated his evil and left his good nature exactly the same. The more he indulged (and enjoyed?) the bad, it soon overwhelmed the good. The potion was almost like a drug - he could not control it.
Obviously, Stevenson has literally coined the phrase, Jekyll and Hyde when we refer to someone having two very diverse personalities.

So popular in their day - the days of the late 1880's! Stevenson's story has been catapulted into a multitude of movies, television, cartoons and pop culture references that both Dr. Henry Jekyll and Mr. Edward Hyde don't look a day over 120 years old.



Dr. Jekyll and Mr. Hyde (1920) – One of the first movies to come, starring John Barrymore. (right)

Dr. Jekyll and Mr. Hyde (1931) – Starring the great actor, Fredric March who won an Academy Award for his dual role. (left)
Dr. Jekyll and Mr. Hyde (1941) – This one stars such greats as Spencer Tracey, Ingrid Bergman and Lana Turner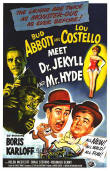 Abbot and Costello Meet Dr. Jekyll and Mr. Hyde (1953) – Two famous duos meeting on the screen! Stars the mega-great Boris Karloff as Dr. Jekyll and Mr. Hyde. (right)
The Nutty Professor (Jerry Lewis' 1963 and Eddie Murphy's 1996 remake) – A funnier take of the Jekyll/Hyde franchise.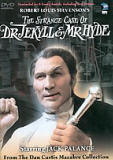 The Strange Case of Dr. Jekyll and Mr. Hyde (1968) – The great Jack Palance, aka Curly, takes a stab as the double duo. (left)
Dr Sexual and Mr. Hyde (1971) – Yes, a porn.
Mary Reilly (1996) – This one stars miss Julia Roberts as a homely servant to creepy John Malkovich's Dr. Jekyll.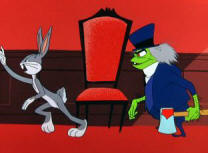 Looney Tunes: Such classic cartoons as "Hyde and Hare", "Dr. Jerkyll's Hide", and "Hyde And Go Tweet." Can you ever forget Bugs Bunny's take of Liberace in "Hyde and Hare?" I wish my brother George was here. Classic! (left)
Alvin and the Chipmunks: In episode "Dr Simon and Mr. Heartthrob", Simon invents a hair growth formula but it mistakenly gets contaminated with a different liquid that turns him into a suave ladies man.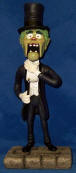 Mad Monster Party: One of monstrous guests at Dr. Frankenstein's monster ball. He was the scariest one there! (right)
DuckTales: An episode called "Dr. Jekyll & Mr. McDuck" has Scrooge McDuck sprayed with Dr. Jekyll's "Moneybags Formula", causing him to lose his mind and throw his money around.