---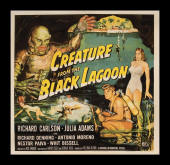 The Creature from the Black Lagoon is the 1954 sci-fi classic about a murderous amphibious creature that is unfortunately discovered by a group of scientists in the Amazon. The scientists make the trek over there after a discovery of fossilized evidence reveals a link between land and sea animals in the form of a skeletal hand with webbed fingers. They plan to find the rest of the skeleton, however they stumble upon the real deal in the form of the GillMan. And thatís when the fun begins.
All the while, the GillMan or The Creature secretly watches the crew and kills a few here or there, as expected. The crew eventually captures the creature at the Black Lagoon, but it breaks free. Soon the GillMan returns to kidnap the beautiful Kay, fiancťe of one of the expedition, with whom it has fallen in love. Didnít expect that, did you? More mayhem ensues, until the end when the GillMan gets shot and falls into the murky Black Lagoon. Is it the end for him? Stay tuned for two sequels!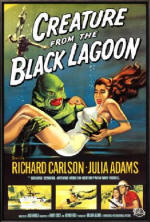 The Creature from the Black Lagoon was such a smash that it spawned two sequels:
1. Revenge of the Creature (1955) - Clint Eastwood's first movie. He plays a small role as a lab technician.
2. The Creature Walks Among Us (1956)- The only one of the three, not filmed in 3-D
*A 2008 Remake of The Creature from the Black Lagoon is on the way!

The movie (and Revenge of the Creature) was originally released in 3-D, however if viewed in 2-D on a DVD today, you wonít be disappointed.

The GillMan was played by Ben Chapman when on land and Ricou Browning in underwater scenes.

Clint Eastwood's first movie role was in Revenge of the Creature in 1955!


Terror Train: One of the soon-to-be-disposed college students wore a Creature-esque costume.
Pinball machine game: Released in 1992 by Midway the game has a 1950s drive-in / retro theme. It also features such 50's classic songs like Rock Around the Clock and Summertime Blues. The game sold 7,841 units.
Mad Monster Party: One of the monster guest of honors.
Fade to Black: In this 1980 slasher-flick, the movie-obsessed killer transforms himself into a slew of classic movie characters, including The Creature, as his modus operandi when he kills.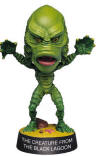 http://www.the-reelgillman.com/ Excellent site dedicated to The GillMan!
http://creaturefest.com/ Itís ALL about the Creature here! During the Halloween season, itís sunny in Wakulla Springs, Florida! Be prepared to celebrate your one and only favorite movie monster here Ė who else? The Creature from the Black Lagoon of course! Wakulla Springs is where they filmed all the underwater scenes!
http://www.julieadams.biz/ Fans of the beautiful Julie Adams, rejoice!