---
Crescent Mummy Dogs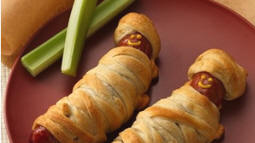 Hot dogs are all wrapped up in a classic recipe for Halloween...or anytime a chuckle is in order
Prep Time: 30 min ; Start to Finish: 50 min
Ingredients:
1 can (8 oz) Pillsbury® refrigerated crescent dinner rolls (8 count)
2 ˝ slices (2.5 oz) American cheese slices, quartered
10 large hot dogs
Cooking spray
Mustard or ketchup, if desired
Preparation Directions:
1. Heat oven to 375°F. Unroll dough; separate at perforations creating 4 rectangles; press perforations to seal. With knife or kitchen scissors, cut each rectangle lengthwise into 10 pieces, making a total of 40 pieces of dough. Slice cheese slices into quarters (1/2 slice cheese, cut in half).
2. Wrap 4 pieces of dough around each hot dog and 1/4 slice of cheese to look like "bandages," stretching dough slightly to completely cover hot dog. About 1/2 inch from one end of each hot dog, separate "bandages" so hot dog shows through for "face." On ungreased large cookie sheet, place wrapped hot dogs (cheese side down); spray dough lightly with cooking spray.
3. Bake 13 to 17 minutes or until dough is light golden brown and hot dogs are hot. With mustard, draw features on "face."
Makes 10 sandwiches
High Altitude (3500-6500 ft): Bake 15 to 19 minutes.
Source: http://www.pillsbury.com/recipes/showRecipe.aspx?rID=16015
---

"Bite their heads off!"
Gingerbread Mummy

Ingredients


Cookie Mix:
1/4 cup softened Butter
1/2 cup Sugar
1/2 cup Molasses
1/3 cup Water
3 1/4 cups Flour
1 tsp. Baking soda
1 tsp. Ginger
1/2 tsp. Cinnamon
1/2 tsp. Cloves
1/2 tsp. Salt
Glaze and decorations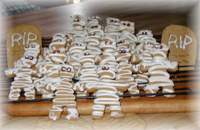 Glaze:
1 tbsp. Butter
1/2 tsp. Vanilla
3 tbsp. Milk
Powdered Sugar
Instructions


In bowl, cream butter and sugar. Add molasses and water. Mix well. Add remaining ingredients. Knead very well until forms a ball.

Roll out on lightly floured board. Cut into Gingerbread men shapes using Gingerbread man cutter. Place on cookie sheet.

Bake at 350 degrees F oven for 8-10 minutes. Allow to cool. Makes about 2 dozen mummies.

Glaze:


Mix all ingredients adding enough powdered sugar to make a smooth drizzling consistency. Place in pastry/decorating bag, or in small plastic bag. Using tip, or cut a very small hole in tip of plastic bag, drizzle back and fourth over cooled Gingerbread men to create your mummy.

Eyes can be created with decorations or a tube of decorator gel.

Source: http://www.kidsturncentral.com/holidays/recipes/hrecipe23.htm
---
Mummy Loaf Recipe
Easy 3 ingredient cheese and Pepperoni loaf.
by Rita L.
16 servings
<![if !vml]>

<![endif]> 30 min 15 min prep
Ingredients:
2 (8 ounce) packages crescent rolls
2 cups mozzarella cheese, shredded
1-2 ounce pepperoni slices
Preheat oven to 375 degrees.

Divide and place each crescent as shown in picture, each slightly overlapping each other. Roll with a rolling pin just to blend the dough to each other.

Place slices of pepperoni down the center and top with the cheese.

Start at the bottom and bring the sides in being not perfect. Overlapping to make it look like rags. Bring the head part down and mold the figure to look like a body of a mummy.

Bake for 15-20 minutes.

Decorate as you like. I used red and orange peppers cut out to make an ankh, eyes, lips, &bats.
Source: http://www.recipezaar.com/193353
---
Yummy Mummy Cookies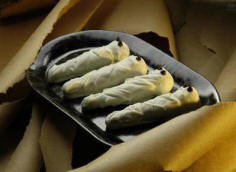 Ingredients:
2/3 cup butter or margarine, softened
1 cup sugar
2 teaspoons vanilla extract
2 eggs
2-1/2 cups all-purpose flour
1/2 cup HERSHEY'S Cocoa
1/4 teaspoon baking soda
1/2 teaspoon salt
1 cup HERSHEY'S MINI CHIPS Semi-Sweet Chocolate Chips
1 to 2 packages (12 oz. each) HERSHEY'S Premium White Chips
1 to 2 tablespoons shortening (do not use butter, margarine, spread or oil)
Additional HERSHEY'S MINI CHIPS Semi-Sweet Chocolate Chips

Directions:
1. Beat butter, sugar and vanilla in large bowl until creamy. Add eggs; beat well. Combine flour, cocoa, baking soda and salt; gradually add to butter mixture, beating well. Stir in 1 cup small chocolate chips. Refrigerate dough 20 minutes or until firm enough to handle.

2. Heat oven to 350 F. For mummy body, roll 1 tablespoon dough into 3-1/2 inch long carrot shape; place on ungreased cookie sheet. For head, roll 1 teaspoon dough, roll into ball the size of a grape; press onto wide end of body. Repeat procedure with remaining dough.

3. Bake 8 to 9 minutes or until set. Cool slightly; remove from cookie sheet to wire rack. Cool completely.

4. Microwave 2 cups (12-oz. pkg.) white chips and 1 tablespoon shortening in microwave-safe pie plate or shallow bowl at HIGH (100%) 1 minute; stir until chips are melted.

5. Place 1 cookie at a time on table knife or narrow metal spatula. Spoon white chip mixture over just the top of cookie to coat; place on wax paper. (If mixture begins to thicken, return to microwave for a few seconds.) Melt additional chips with shortening, if needed for additional coating. As coating begins to set on cookies, use toothpick to score lines in body and on face to resemble mummy . Place two small chocolate chips on each for eyes. Store, covered, in cool dry place. About 30 cookies.
Source: http://www.hersheys.com/recipes/home.asp
---
The Mummy Cocktail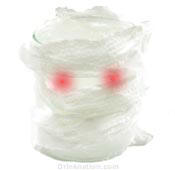 1 oz. Triple Sec
2 oz. Vodka
Fill with Carbonated water or Club Soda
1 tbsp. lemon juice
Glass:
The Old Fashioned
Mixing Instructions:
Build over ice in a rocks glass. Stir well.
Source: http://www.drinknation.com/drink/The-Mummy