There are MANY movies featuring vampires, as the following list is not exhaustive. Hopefully it's representative of good vampire/Dracula movies! Please let us know if something is missing or you have a comment otherwise.
---
Dracula (75th Anniversary Edition) (1931)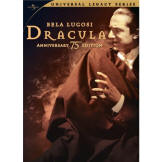 When Universal Pictures picked up the movie rights to a Broadway adaptation of Dracula, they felt secure in handing the property over to the sinister team of actor Lon Chaney and director Tod Browning. But Chaney died of cancer, and Universal hired the Hungarian who had scored a success in the stage play: Béla Lugosi. The resulting film launched both Lugosi's baroque career and the horror-movie cycle of the 1930s. - Robert Horton Amazon.com
Dracula's Daughter/Son of Dracula (1943)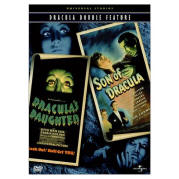 Dracula's Daughter - Prof. Van Helsing is in danger of prosecution for the murder of Dracula...until a hypnotic woman steals the Count's body and cremates it. Bloodless corpses start appearing in London again, and Hungarian countess Marya Zaleska seeks the aid of Jeffrey Garth, psychiatrist, in freeing herself of a mysterious evil influence. The scene changes from foggy London back to that eerie road to the Borgo Pass...
Son of Dracula - Carpathian Count Alucard is invited to the U.S. by a young "morbid" heiress (Katherine Caldwell). Her boyfriend (Frank Stanley) and local officials are suspicious of the newcomer, who is interested in the "virile" soil of the new world. Amazon.com
Dracula - The Legacy Collection (Dracula / Dracula (1931 Spanish Version) / Dracula's Daughter / Son of Dracula / House of Dracula) (1931)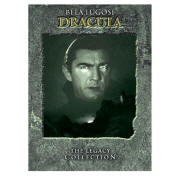 Included in the DVD collection is Dracula, Dracula (Spanish version), Dracula's Daughter, Son of Dracula, House of Dracula and The Road to Dracula - a documentary short.
The following is a description for House of Dracula, all the others have been described above!
House of Dracula - Dracula arrives at Dr. Edelman's office asking for a cure to his vampirism. However, this is a ruse by Dracula to get near Dr. Edelman's beautiful female assistant and turn her into a vampire. Meanwhile, a sincere Lawrence Talbot, AKA the Wolfman, arrives seeking a cure for his lycanthropy. When Dr. Edelman's first attempt fails, Talbot tries to commit suicide by jumping off a cliff, but instead finds a network of underground caves where Frankensteins Monster is in stasis. Chaos ensues as the three monsters fight for dominance of each other. Amazon.com
Nosferatu - Special Edition (1929)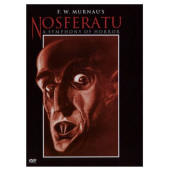 German director F.W. Murnau's 1922 version remains a definitive adaptation of Bram Stoker's Dracula. Created when German silent films were at the forefront of visual technique and experimentation, Murnau's classic is remarkable for its creation of mood and setting, and for the unforgettably creepy performance of Max Schreck as Count Orlok, a.k.a. the blood-sucking predator Nosferatu. With his rodent-like features and long, bony-fingered hands, Schreck's vampire is an icon of screen horror, bringing pestilence and death to the town of Bremen in 1838. Using negative film, double-exposures, and a variety of other in-camera special effects, Murnau created a vampire classic that still holds a powerful influence on the horror genre. Seen today, Murnau's film is more of a fascinating curiosity, but its frightening images remain effectively eerie. - Jeff Shannon Amazon.com
Twilight (2008)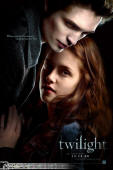 Twilight is based on the mega-best-selling young adult series by Stephanie Meyer. Isabella Swan moves to gloomy Forks to live with her father. As she starts her junior year in high school she becomes fascinated by Edward Cullen who holds a dark secret which is only known by his family. Edward falls in love with Bella as well but knows the further they progress in their relationship the more he is putting Bella and those close to her at risk. Edward warns Bella that she should leave him but she refuses to listen and to understand why he is saying this. Bella learns his secret. He is a vampire, however she is not afraid of his blood-thirsty needs and the fact he could kill her at any moment. Bella is afraid of losing him, the love of her life. The thrill begins when a new vampire finds it a challenge to hunt Bella down for her irresistible blood. The game is on and James will not stop until she is killed.
Bram Stoker's Dracula (1992)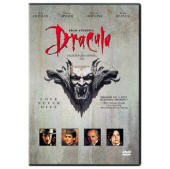 With dizzying cinematic tricks and astonishing performances, Francis Coppola's 1992 version of the oft-filmed Dracula story is one of the most exuberant, extravagant films of the 1990s. Gary Oldman and Winona Ryder, as the Count and Mina Murray, are quite a pair of star-crossed lovers. She's betrothed to another man; he can't kick the habit of feeding off the living. Anthony Hopkins plays Van Helsing, the vampire slayer, with tongue firmly in cheek. Sadie Frost is a sexy Lucy Westenra. And poor Keanu Reeves, as Jonathan Harker, has the misfortune to be seduced by Dracula's three half-naked wives. There's a little bit of everything in this version of Dracula: gore, high-speed horseback chases, passion, and longing. Amazon.com
Horror of Dracula (1958)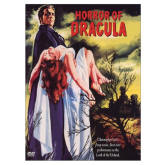 After Hammer Studios' tremendous success with The Curse of Frankenstein, they struck a deal to adapt Universal's catalog of classics and set their sights first on Dracula. Christopher Lee removes the monstrous makeup from the earlier film and makes his entrance as an elegant, confident, altogether seductive Dracula, a frightening figure of flashing eyes and erotic allure. Peter Cushing, with his hawklike profile and piercing eyes, turns his rationalist intensity to Van Helsing: man of science as crusading vampire hunter. Lee is electric as the ferocious Count, despite his limited screen time, and Cushing turns Van Helsing into a virtual swashbuckler of a hero, leaping and diving through the climax like an aging action hero. - Sean Axmaker Amazon.com
Dracula (1979)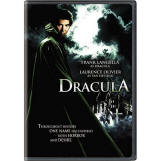 Chalk this one up as something that seemed like a good idea at the time. Frank Langella had just taken Broadway by storm in a revival of the play based on Bram Stoker's classic vampire novel. He was tall, elegant, and almost painfully romantic - all qualities that failed to translate to this garish, tarted-up film version. The story remains the same, if told in greater length than in Bela Lugosi's version. The film even offered Laurence Olivier as vampire-hunter Van Helsing (in one of several roles he played during the period that required a middle-European accent) and a young Kate Nelligan as the woman whose love (and blood) Dracula most wants. But director John Badham, working from W.D. Richter's clunky script, makes a hash of most of it, relying on special effects to do the heavy lifting. - Marshall Fine Amazon.com
Interview With the Vampire (1994)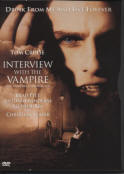 Interview with the Vampire is based on Anne Rice's 1991 novel. It hadn't even been a year since a plantation owner named Louis (Brad Pitt) had lost his wife, and now he had lost his will to live. A vampire named Lestat takes a liking to Louis and offers him the chance to become a creature of the night: a vampire. Louis accepts, and Lestat drains Louis' mortal blood and then replaces it with his own turning Louis into a vampire. Louis must learn from Lestat the ways of the vampire. Starring Tom Cruise as Lestat, a controversial choice. Also stars Bratt Pitt and a young Kirsten Dunst. Amazon.com
Nosferatu the Vampyre (1979)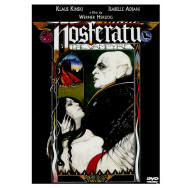 Werner Herzog's remake of F.W. Murnau's original vampire classic is at once a generous tribute to the great German director and a distinctly unique vision by one of cinema's most idiosyncratic filmmakers. Though Murnau's Nosferatu was actually an unauthorized adaptation of Bram Stoker's Dracula, Herzog based his film largely on Murnau's conceptions - at times directly quoting Murnau's images - but manages to slip in a few references to Tod Browning's famous version (at one point the vampire comments on the howling wolves: "Listen, the children of the night make their music.")Longtime Herzog star Klaus Kinski is both hideous and melancholy as Nosferatu (renamed Count Dracula in the English language version). As in Murnau's film, he's a veritable gargoyle with his bald pate and sunken eyes, and his talon-like fingernails and two snaggly fangs give him a distinctly feral quality. Herzog's dreamy, delicate images and languid pacing create a stunningly beautiful film of otherworldly mood, a faithful reinterpretation that by the conclusion has been shaped into a quintessentially Herzog vision. - Sean Axmaker Amazon.com
Fright Night (1985) one of our favorites!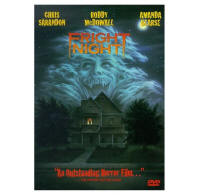 For young Charlie Brewster, nothing could be better than an old horror movie late at night. Two men move in next door, and for Charlie with his horror movie experience, there can be no doubt that their strange behavior is explained by the fact that they are a vampire and his undead day guardian. The only one who can help him hunt them down is a washed-up actor, Peter Vincent, who hosts Charlie's favorite TV show, Fright Night. Vincent doesn't really believe that vampires exist, but does it for the money... Amazon.com
Salem's Lot (1979)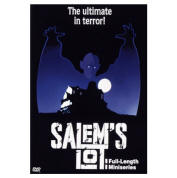 The vampire-inspired Stephen King tale follows a young novelist, Ben Mears returning home to Salem's Lot after many years. Little does he or the townfolk realize that a couple of other new residents are coming... Straker, a antiques dealer, and his partner and master Barlow, a ancient and malevolent vampire bent on making Salem's Lot his new home. Soon Ben becomes disturbed by the strange behavior of its people. He begins to believe that the source of the trouble may be the eerie old Marsten House that overlooks the town. Has a vampire taken up residence in his hometown? An excellent book as well! Amazon.com
Vampire Hunter D (1993)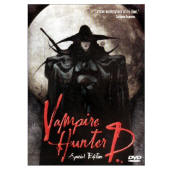 Anime
D, a haunted half-human, half-vampire warrior, wanders the countryside of a feudalistic future, hunting his own kind while battling his own evil nature. Like a rogue samurai, the silent, solitary hero wanders into a small hamlet terrorized by the all-powerful Count, a monstrous vampire lord, and his demonic minions from a castle that casts a long shadow over the countryside. The Count has claimed the human Doris (who wields a mean cutlass herself) as his bride. D becomes her protector and--when she's captured by the Count's shape-shifting minions - her savior. Designed in slashes and sharp, angular images and directed with abrupt explosions of lightning-fast action, Vampire Hunter D is violent and bloody in the mode of a samurai adventure. The sleek D is appropriately dark and quiet, cutting a mysterious figure, while the Count is a veritable demon of a vampire, a supernaturally powerful monster whose appetites know no bounds. The undercurrent of sexuality never spills over into the sadistic vein of so many "adults only" thrillers, but it is recommended for mature audiences. Amazon.com
Vampire Hunter D - Bloodlust (2001) Anime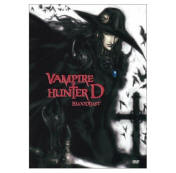 Based on a series of fantasy novels by Hideyuki Kikuchi, Vampire Hunter D: Bloodlust is a bloody anime adventure. Set in the distant future, the story focuses on D (voice by Andrew Philpot), the son of a vampire and a mortal who has dedicated his life to exterminating vampires. D is pursuing Charlotte (Wendee Lee), who has been carried off by vampire Meier Link (John Rafter Lee). The bounty-hunting Markus brothers and tough-talking Leila (Pamela Segall) are also on the trail. A long, violent chase brings them to the Castle of Carmila the Bloody Countess (Julia Fletcher), where the narrative founders in a series of confusing illusions that lead to an inconclusive ending. Bloodlust looks better in still images that evoke Yoshitaka Amano's intricate illustrations than it does in motion. - Charles Solomon Amazon.com
The Lost Boys (1987)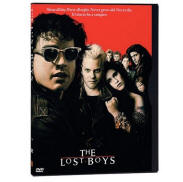 A mother and her two sons move to a small coast town in California. The town is plagued by bikers and some mysterious deaths. The younger boy makes friends with two other boys who claim to be vampire hunters while the older boy is drawn into the gang of bikers by a beautiful girl. The older boy starts sleeping days and staying out all night while the younger boy starts getting into trouble because of his friends' obsession. Amazon.com
Buffy the Vampire Slayer (1992)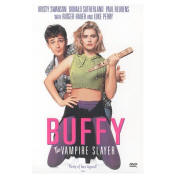 A tongue-in-cheek vampire comedy is sugarcoated horror, an unusual mix of the cute and scary, with a splash of postmodern pop nonsense to give culture critics something to think about. Kristy Swanson plays a Valley Girl who learns she belongs to a line of ancient vampire killers. After training under the watchful eye of a mentor (Donald Sutherland), she becomes a spandex-wearing, kung-fu kicking, stake-stabbing babe and the mortal enemy of a narcissistic master vampire (Rutger Hauer). The accent is all on cheery attitude, though the action can be as authentically unnerving as any other halfway decent monster movie. Paul Reubens, formerly Pee-wee Herman, has a small role as Hauer's fanged familiar. - Tom Keogh Amazon.com
The Vampire Bat (1933)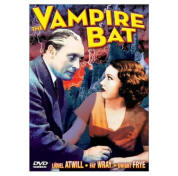 When the villagers of Klineschloss start dying of blood loss, the town fathers suspect a resurgence of vampirism. While police inspector Karl remains skeptical, scientist Dr. von Niemann cares for the vampire's victims one by one, and suspicion falls on simple-minded Herman Gleib because of his fondness for bats. A blood-thirsty mob hounds Gleib to his death, but the vampire attacks don't stop. Amazon.com
Underworld (2003)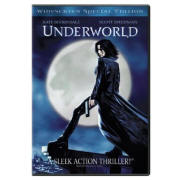 Vampire vs. Werewolf. A war has been raging between the Vampires and Lycan for centuries, Selene (Kate Beckinsale) is a death dealer, assigned to hunt down and eradicate the last of the Lycan. When she comes across Michael Corvin (Scott Speedman) - a werewolf, who holds the key to end the war she must decide where her allegiances will lie. Amazon.com
Underworld - Evolution (2006)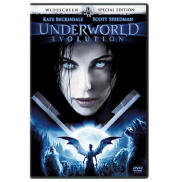 This movie continues the saga of war between the Death Dealers (vampires) and the Lycans (werewolves). The film traces the beginnings of the ancient feud between the two tribes as Selene (Kate Beckinsale) and Michael (Scott Speedman), the lycan hybrid, try to discover the secrets of their bloodlines. All of this takes them into the battle to end all wars as the immortals must finally face their retribution. Amazon.com
Blade (1998)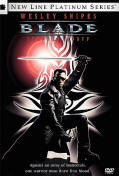 Based on the comic book of the same name, Blade (Wesley Snipes) is a half-mortal, half-immortal bent on avenging his mother's death and destined to rid the earth of a race of vampires. Meanwhile, the modern-day technologically advanced vamps he's targeted are in pursuit of his special blood type needed to summon an evil god who plays a key role in their plan to execute the human race. A dark action thriller from the director of Death Machine and the writer of The Crow: City of Angels and Dark City with plenty of blood and guts. Amazon.com
Blade II (2002)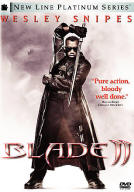 In Guillermo del Toro's Blade II, Wesley Snipes reprises his role as the part-human, part-vampire superhero based on the comic book character. Following a trail of blood that leads to Prague, Blade slays a legion of bloodsuckers in the search for his abducted mentor, Whistler (Kris Kristofferson). Soon Blade reluctantly joins forces with a band of skilled vampiric warriors called the Bloodpack to hunt down an even deadlier enemy - the monstrous Reapers, who prey on vampires and humans alike, infecting them with an incurable virus. The film also improves on the entertaining original by adding a darker, more visceral tone that's fleshed out by del Toro's stylish and brilliantly grotesque visuals. Both frightening and thrilling, Blade II is sure to astound both horror and action fans alike. Amazon.com
Blade: Trinity (2004)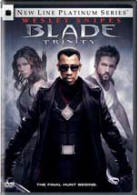 The third installment is pretty good. This time Jessica Biel, as an ass-kicking vampire slayer, joins Wesley Snipes as the title character, Blade. With series writer David S. Goyer in the director's chair, the film is calculated for mainstream appeal, trading suspenseful horror for campy humor and choppy, nonsensical action. The franchise still offers some intriguing ideas, however, including Drake (Dominic Purcell), the original vampire, whose blood contains the secret that could destroy all blood-suckers in a plot that incorporates a sinister "blood farm" where humans are held - and drained - in suspended animation. And Biel's wise-cracking sidekick (Ryan Reynolds) in her cadre of "Nightstalkers" provides comic relief in a series that's grown increasingly dour. All of which makes Blade: Trinity a love-it-or-hate-it sequel... supposedly the last in a trilogy, but the ending suggests otherwise. - Jeff Shannon Amazon.com
Love at First Bite (1979)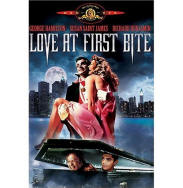 Dracula has never been so funny and dashing - to say nothing of being an awesome disco dancer - as in this "delightful movie with a bang-up cast" (The New York Times) led by the epitome of suave, George Hamilton, and featuring first-rate performances from Susan Saint James, Richard Benjamin, Dick Shawn, Arte Johnson, Sherman Hemsley and Isabel Sanford! Evicted from Transylvania, Dracula (Hamilton) goes to New York to make Cindy (Saint James), a model with an old soul, his eternal bride. To his delight, she quickly falls for his necking style. But when her would-be boyfriend (Benjamin), a descendant of the vampire-killing Van Helsings, meets his romantic rival, he's determined to put a stake in the count's plans! Amazon.com