---
The vampire has been an inspired icon in pop culture for some time. The image of the vampire and/or vampire bat as a character is prevalent in many things. Vampires can be seen on cereal boxes, in cartoons, the inspiration for movies, books and comic books, as well as in art.
You can also see all different types of vampires walking around the dark streets at Halloween - from old school Count Dracula to a sexy gothic vampiress. Pass us the edible wax fangs! The following is a sampling of some vampires seen in pop culture.
Pop icon #1 -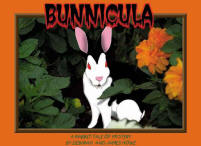 Written in 1979, Bunnicula is the immensely popular children's book about a loveable bunny under suspicion for blood-lust.
The story is centered on the Monroe family and their pets and is told from the perspective of their dog Harold. The Monroes find a bunny at the cinema while watching a Dracula film. Because of this, they dub him Bunnicula. Their cat Chester, however, is convinced Bunnicula is a vampire and attempts to get Harold to help save the Monroes from the perceived menace.
"Pointy fangs, the appearance of a cape, black-and-white coloring, nocturnal habits … it sure seemed like he was a vampire bunny. When the family finds a white tomato in the kitchen, sucked dry and colorless, well … Chester becomes distraught and fears for the safety of the family. "Today, vegetables. Tomorrow … the world!" he warns Harold."
Bunnicula soon became an animated TV special and has inspired a series of funny books centering around Bunnicula and his family. Who can resist a vampire bunny?!?!
BEWARE THE HARE!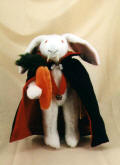 A stuffed Bunnicula in his vampire cape.
He sucks the life out of vegetables!
---
Pop icon #2 -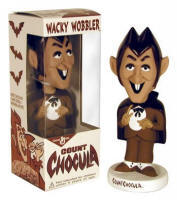 Still around today, Count Chocula conjures up fond memories of one of the most frighteningly good cereal ever. Count Chocula is a member of the line of monster-themed breakfast cereals produced by General Mills. The tasty cereal still contains chocolate-flavored corn cereal bits and marshmallows. Instead of craving blood like Dracula, our Chocula craves Count Chocula breakfast cereal!
Count Chocula's friends and fellow cereal mascots are Franken Berry and Boo Berry.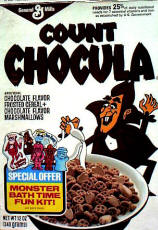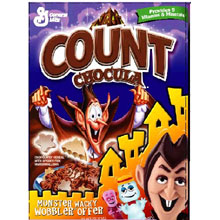 Original Count Chocula A more modern version
---
Pop icon #3 -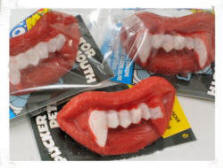 An offspring of wax lips, wax fangs are the painless and temporary solution to becoming a vampire for a night. Made out of wax, color and some unnatural "cherry" flavoring, the fangs can later be chewed as gum. The fangs are now being produced by Tootsie Roll Industries under the Wack-O-Wax brand name.
Every adult can remember wax fangs/lips. The best part was the smell and taste of the wax. And after your jaw became locked, it was a kick to just mold the chewed up wax with your fingers!
---
Pop icon #4 -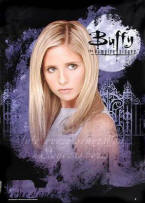 Buffy the Vampire Slayer is an American cult television series that aired from March 10, 1997 until May 20, 2003. The series was inspired by the 1992 movie of the same name featuring Kristy Swanson in the title role. The television series instead cast relative newcomer, Sarah Michelle Gellar as Buffy Anne Summers.
Buffy is the latest in a line of young women chosen by fate to battle against vampires, demons, and the forces of darkness. Like previous slayers, Buffy is aided by a Watcher, who guides and trains her. Unlike her predecessors, Buffy surrounds herself with a circle of loyal friends who become known as the "Scooby Gang."
Buffy finds that this calling endows her with a limited degree of clairvoyance, usually in the form of prophetic dreams, as well as dramatically increased physical strength, endurance, agility, intuition and ease of healing. But for Buffy fans, Buffy was fondly known for her kicking butt powers.
---
Pop icon #5 -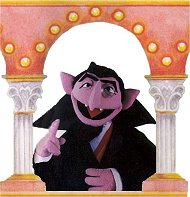 Best known as The Count, we grew up with this counting-obsessed, monocle-wearing Muppet-vampire watching Sesame Street. His role on Sesame Street was mainly to educate children in mathematics, mainly counting (duh). Some can say he was preoccupied with it.
He resembles Bela Lugosi but doesn't behave like your average vampire: The Count does not fear sunlight - he can be seen outside often counting things from sheep to snowflakes! He even sleeps at night. Also, he hasn't been observed feeding on blood or changing into a bat, though he has been known to keep many bats as pets. He is a bit of a lothario. He had one girlfriend, Countess Von Backwards - who had a tendency to count backwards. Another girlfriend was Countess Dahling Von Dahling.
The Count was also known for his laugh. Once finished counting, he would triumphantly laugh a shout "Ah Ha Ha Ha!" while thunder rolled and lightning flashed on the screen behind him.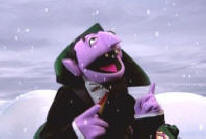 The Count counting snowflakes