There are many movies featuring zombies, the first one appearing in 1932 and continuing to this day. The following compilation of zombie movies is not exhaustive. However, hopefully it's representative of good zombie movies! Please let us know if something is missing or if you have a comment about our taste or lack thereof!
We must start with the ultimate classic Night of the Living Dead which spawned all the rest...
Night of the Living Dead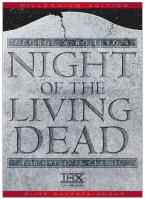 George Romero's classic 1968 zombie-fest (shot in b&w) offers some disturbing images, even decades later. In a Pittsburgh suburb people are being stalked by zombies ravenous for human flesh. In a house whose occupant has already been slain, two separate groups of people unite and board themselves in, hoping to fend off the advancing ghouls. Through radio and TV reports they learn that radiation from outer space is thought to be responsible for the wave of zombie attacks all over the eastern United States. Once the humans are trapped, Romero shifts the focus to the internal feuding between them as they decide how to handle their dreadful situation. What unfolds is an examination of human nature, and of the fear and selfishness that keep many citizens from getting involved in the world's problems. Appropriately, both the zombies and the authorities who later hunt them are equally soulless. This film could also be read as a criticism of white males - it is not merely a coincidence that the film's two most rational, constructive characters are a woman and a black man. It is also no coincidence that the sequel takes place in a mall infested by the undead - a perfect analogy for consumer culture. - Bryan Reeseman Amazon.com

---
Dawn of the Dead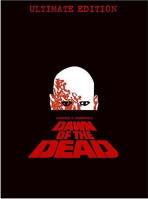 George Romero's 1978 follow-up to his classic Night of the Living Dead is quite terrifying and gory. But in its own way, it is just as comically satiric as the first film in its take on contemporary values. This time, we follow the fortunes of four people who lock themselves inside a shopping mall to get away from the marauding dead and who then immerse themselves in unabashed consumerism, taking what they want from an array of clothing and jewelry shops, making gourmet meals, etc. It is Romero's take on Louis XVI in the modern world: keep the starving masses at bay and crank up the insulated indulgence. Still, this is a horror film when all is said and done, and even some of Romero's best visual jokes (a Hare Krishna turned blue-skinned zombie) can make you sweat. - Tom Keogh Amazon.com

---
Day of the Dead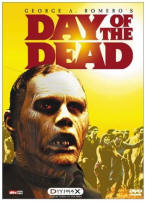 Chapter three of George Romero's mighty zombie trilogy has big footsteps to follow. Night of the Living Dead was a classic that revitalized a certain corner of the cinema, and Dawn of the Dead was nothing short of epic. Day of the Dead, however, has always been regarded as a comedown compared to those twin peaks - and perhaps it is. But on its own terms, this is an awfully effective horror movie, made with Romero's customary social satire and cinematic vigor - when a "retrained" zombie responds to the "Ode to Joy," the film is in genuinely haunting territory. The story is set inside a sunken military complex, where Army and medical staff, supposedly working on a solution to the zombie problem, are going crazy (strongly foreshadowing the final act of 28 Days Later). Tom Savini's makeup effects could make even hardcore gore fans tear off their own heads in amazement. - Robert Horton Amazon.com
---
Land of the Dead (2005)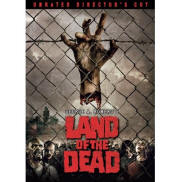 The godfather of zombie movies, George Romero, does his fourth dance with the dead in this take-no-prisoners horror opus. The setting is pure urban jungle-the poor live on the streets, the rich live in gleaming high-rises, and an electrified fence surrounding the city keeps the zombies at bay. It all goes to hell, of course, as it has many times before, but Romero's wit and gross outrageousness are still unequalled. There's a surprisingly strong class-warfare subtext at work here that's sweepingly entertaining, and Romero wisely guides his actors through the bloody muck and mire with revolutionary enthusiasm. - Bruce Diones Amazon.com
---
White Zombie (1932) - the first Zombie movie!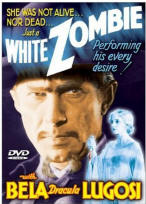 Young couple Madeleine and Neil are coaxed by acquaintance Monsieur Beaumont to get married on his Haitian plantation. Beaumont's motives are purely selfish as he makes every attempt to convince the beautiful young girl to run away with him. For help Beaumont turns to the devious Legendre (Lugosi), a man who runs his mill by mind controlling people he has turned into zombies. After Beaumont uses Legendre's zombie potion on Madeleine, he is dissatisfied with her emotionless being and wants her to be changed back. Legendre has no intention of doing this and he drugs Beaumont as well to add to his zombie collection. Meanwhile, grieving 'widower' Neil is convinced by a local priest that Madeleine may still be alive and he seeks her out. Amazon.com
---
Zombi 2 (1980)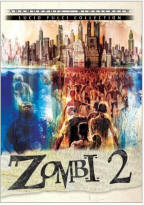 Lucio Fulci's film (released as Zombie in the USA, and Zombi 2 in Italy to pass a "Dawn of the Dead" sequel. A zombie is found aboard a boat off the New York coast which belongs to do a famous scientist. Peter West, a journalist, travels to the Antilles with Ann, the daughter of the scientist. On the way, they meet with with Brian, a ethnologist, and Susan. When they arrive at Matul Island, they find Dr. Menard, and discover a terrifying disease which is turning the Islanders into horrifying Zombies which devour human flesh and seem indestructible. Amazon.com
---
The Serpent And The Rainbow (1988)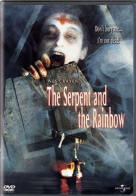 Dennis Allan is an scientist who visits Haiti on the strength of a rumour of a drug which renders the recipient totally paralyzed but conscious. The drug's effects often fool doctors, who declare the victims dead. Could this be the origin of the "zombie" legend? Alan embarks on a surprising and often surreal investigation of the turbulent social chaos that is Haiti during the revolution which ousted hated dictator "Baby Doc" Duvalier. Often a pawn in a greater game, Alan must decide what is science, what is superstition, and what is the unknown in a anarchistic society where police corruption and witch-doctory are commonplace. Amazon.com
---
The Evil Dead (1983)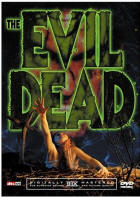 In the fall of 1979, Sam Raimi and his merry band headed into the woods of rural Tennessee to make a movie. They emerged with a roller coaster of a film packed with shocks, gore, and wild humor, a film that remains a benchmark for the genre. Ash (cult favorite Bruce Campbell) and four friends arrive at a backwoods cabin for a vacation, where they find a tape recorder containing incantations from an ancient book of the dead. When they play the tape, evil forces are unleashed, and one by one the friends are possessed. Wouldn't you know it, the only way to kill a "deadite" is by total bodily dismemberment, and soon the blood starts to fly. The Evil Dead lacks the more highly developed sense of the absurd that distinguish later entries in the series - Evil Dead 2 and Army of Darkness - but it is still much more than a gore movie. It marks the appearance of one of the most original and visually exciting directors of his generation, and it stands as a monument to the triumph of imagination over budget. - Simon Leake Amazon.com
---
Evil Dead II (1987)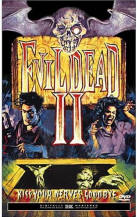 Writer-director Sam Raimi's follow-up to his creepy Evil Dead isn't really a sequel; rather, it's a remake on a better budget. It also isn't really a horror film (though there are plenty of decapitations, zombies, supernatural demons, and gore) as much as it is a hilarious, sophisticated slapstick send-up of the terror genre. Raimi takes every horror convention that exists and exaggerates it with mind-blowing special effects, crossed with mocking Three Stooges humor. The plot alone is a genre cliché right out of any number of horror films. Several teens visit a broken-down cottage in the woods - miles from civilization - find a copy of the Book of the Dead, and unleash supernatural powers that gut every character in sight. All, that is, except Ash (Bruce Campbell) , who takes this very personally and spends much of the of the film getting his head smashed while battling the unseen forces. Although it went unnoticed in the theaters, the film has since become an influential cult-video favorite, paving the way for over-the-top comic gross-out films like Peter Jackson's Dead Alive. - Dave McCoy Amazon.com
---
Army of Darkness (1993)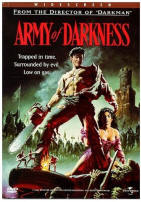 A movie that only true horror buffs could love, Army of Darkness is officially part 3 in the wild and wacky Evil Dead trilogy masterminded by the perversely inventive director Sam Raimi, who would later serve as executive producer of the popular syndicated TV series Hercules: The Legendary Journeys. Raimi's favorite actor, Bruce Campbell, returns as Ash, a hardware-store clerk who is magically transported - along with his beat-up Oldsmobile and a chainsaw attachment for his severed left forearm - to the brutal battlefields of the 14th century. He quickly assumes power, and unites his band of medieval knights against the dreaded Army of the Dead. Raimi gleefully subverts almost every horror-movie cliché as he serves up a nonstop parade of blood, gore, and vicious sword-bearing skeletons. - Jeff Shannon Amazon.com
---
The Return of the Living Dead (1985)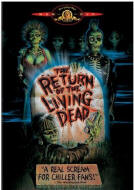 "Do ya wanna party?" challenges the soundtrack to this freaky and funny reworking of George Romero's Night of the Living Dead. Paced to the beat of a pounding rock score, this comic flesh feast delivers both laughs and outlandish gore. No longer lumbering, moaning creatures, these lithe, feral, and cunning undead claw their way out of the cemetery and into the skulls of a human smorgasbord. They even master the art of home delivery: "Send more cops," croaks a corpse into a patrol car radio. Director Dan O'Bannon even takes pains to explain their motivation between the tributes to the granddaddy of zombie horrors ("Well, it worked in the movie!" screams James Karen when a pickax to the skull hardly phases a lively cadaver). Not that it really matters amid the gore and gallows humor, but it does add a kick to the cynically sinister climax. - Sean Axmaker Amazon.com
---
Return of the Living Dead Part II (1988)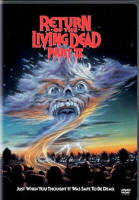 Curious kids open a barrel of green gas linked to a mysterious military experiment, and soon a tenebrous green cloud of fog is making its way through the creepy town cemetery. Knowing exactly where this is headed is, of course, part of the fun in this tongue-in-cheek zombie sequel. Maybe it's not as fresh as its successful predecessor, but all of the key zombie ingredients are still well preserved in this second installment: ravenous "undead" in search of human brains, severed limbs with a life of their own, and lots and lots of shrieking! Taking a hackneyed premise that is a close retelling of part I, director Ken Wiederhorn rejuvenates the genre with sporadic genuine scares, lots of plain old silliness, and some literally eye-popping special effects. - Matt Wold Amazon.com
---
Re-Animator (1985)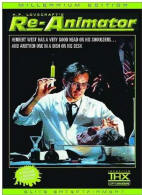 Stuart Gordon's adaptation of H.P. Lovecraft's Herbert West: Re-Animator puts a Night of the Living Dead spin on the classic Frankenstein story. Jeffrey Combs furrows his brow and bugs his eyes as the preternaturally intense Herbert West, a maverick medical student whose gory, gooey experiments cause bloody corpses and body parts to jerk to life. Bruce Abbot is the studious roommate drawn into his extracurricular experiments, which soon involve the dean's daughter and the college's cadaverous, calculating star professor, who literally loses his head over a battle for West's discovery. In this world, that's only a minor setback. Charged with sick gallows humor and a ghoulish gallery of undead beasties, Re-Animator, like Evil Dead II, is one of the most inspired and inventive - and funniest - horror films of the 1980s. - Sean Axmaker Amazon.com
---
Dead Alive (1993)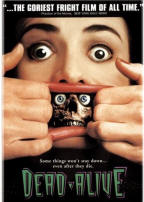 Lionel, a Mama's boy has the unwanted honor of having to look after his overbearingly evil mother. He ends up falling in love with a local woman who believes that they're destined together. In a moment of intentional sabotage of one of their dates, his mother is bitten by a mysterious creature that ends up zombifying her. It's only a matter of time before she rises from the dead a powerful, bloodthirsty zombie. It's only a matter of time before she starts infecting residents of the town and Lionel has to stop her...and them. Amazon.com
---
28 Days Later (2003)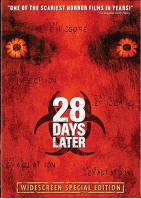 A powerful virus escapes from a British research facility. Transmitted in a drop of blood and devastating within seconds, the virus locks those infected into a permanent state of murderous rage - a murderous zombie rage! Within 28 days the country is overwhelmed and a handful of survivors begin their attempts to salvage a future, little realizing that the deadly virus is not the only thing that threatens them. Amazon.com
---
Shaun of the Dead (2004)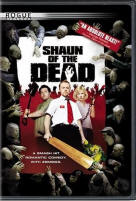 British horror/comedy Shaun of the Dead is a scream in all senses of the word. Brain-hungry zombies shamble through the streets of London, but all un-ambitious electronics salesman Shaun (Simon Pegg) cares about is his girlfriend Liz (Kate Ashfield), who just dumped him. With the help of his slacker roommate Ed (Nick Frost), Shaun fights his way across town to rescue Liz, but the petty concerns of life keep getting in the way: When they're trying to use vinyl records to decapitate a pair of zombies, Shaun and Ed bicker about which bands deserve preservation--New Order they keep, but Sade becomes a lethal frisbee. Many zombie movies are comedies by accident, but Shaun of the Dead is deliberately and brilliantly funny, while still delivering a few delicious jolts of fear. - Bret Fetzer Amazon.com
---
Dawn of the Dead (2004)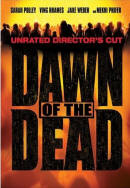 Are you ready to get down with the sickness? Movie logic dictates that you shouldn't remake a classic, but Zack Snyder's Dawn of the Dead defies that logic and comes up a winner. You could argue that George A. Romero's 1978 original was sacred ground for horror buffs, but it was a low-budget classic, and Snyder's action-packed upgrade benefits from the same manic pacing that energized Romero's continuing zombie saga. Romero's indictment of mega-mall commercialism is lost (it's arguably outmoded anyway), so Snyder and screenwriter James Gunn compensate with the same setting--in this case, a Milwaukee shopping mall under siege by cannibalistic zombies in the wake of a devastating viral outbreak a well-chosen cast, some outrageously morbid humor, and a no-frills plot that keeps tension high and blood splattering by the bucketful. - Jeff Shannon Amazon.com
---
Resident Evil (2002)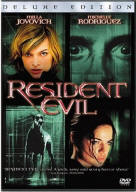 A virus has escaped in a secret facility called "The Hive," turning the staff into hungry zombies and releasing the mutated Lab "Animals" that they were studying. The complex computer shuts down the base to prevent infection. The parent corporation sends in an elite military unit, where they meet Alice, who is suffering from amnesia due to exposure to nerve gas. The military team must shut down the computer and get out, fighting their way past zombies, mutants, and the computer itself, before the virus escapes and infects the rest of the world. Alice must also come to terms with her slowly-returning memories.
Amazon.com