It's the Great Pumpkin, Charlie Brown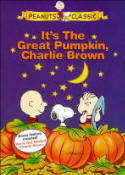 Charlie Brown gets rocks in his trick-or-treat bag, Linus awaits a visitation from the Great Pumpkin in his terribly sincere pumpkin patch (while the adoring little Sally sits tight with him), Snoopy falls asleep, Lucy harasses Schroeder, and Pig-Pen kicks up a dust storm even beneath his costume in this classic television broadcast. Funny stuff, but also graced with Charles Schultz's more poignant and gently satiric themes from the 1960s on the influence of faith, failure, and hope in our lives. -- Tom Keogh Amazon.com






This is THE classic animated Halloween for both kids and adults. Halloween is just not the same without it.
---
Gravity Falls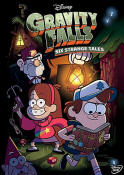 If you meet forest gnomes disguised as zombies, dig up a mysterious old journal filled with secrets and ciphers, or encounter spooky hijinks at the local condemned convenience store, you've just crossed over into... Gravity Falls, where there's always something peculiar going on! It's always fun to join 12-year-old twins Dipper and Mabel Pines as they explore the oddest spot on the map. Shipped off to spend the summer with their gruff Great-Uncle ("Grunkle") Stan - who runs the tacky tourist trap, "Mystery Shack" - the kids uncover mysterious surprises, unsurpassed silliness and supernatural shenanigans lurking around every corner of the deceptively sleepy little town. Amazon.com






This is our new favorite! It is one smart, irreverent, laugh-out-loud show. We love all its endearing characters, especially Mabel who can do no wrong in our opinion. Hope this show goes on for a long time.
---
The Adventures of Ichabod and Mr. Toad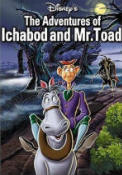 There are two stories in this one DVD. The Wind in the Willows: Concise version of Kenneth Grahame's story of the same name. J. Thaddeus Toad, owner of Toad Hall, is prone to fads, such as the newfangled motor car. This desire for the very latest lands him in much trouble with the wrong crowd, and it is up to his friends, Mole, Rat and Badger to save him from himself. - The Legend of Sleepy Hollow: Retelling of Washington Irving's story set in a tiny New England town. Ichabod Crane, the new schoolmaster, falls for the town beauty, Katrina Van Tassel, and the town Bully Brom Bones decides that he is a little too successful and needs "convincing" that Katrina is not for him. Amazon.com





---
Cartoon Network Halloween 2 - Grossest Halloween Ever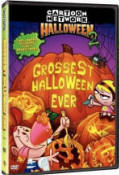 Get ready for a grossly ghoulish time with Cartoon Network's all-new Halloween DVD! Whether it's sticky-bearded pirates, angry cookie-baking mummies, or chili-born methane monsters that pack a powerful stench, there's enough festering fun here to keep you laughing all the way to the grave! 5 Halloween episodes plus 4 bonus toons: Billy & Mandy: Night of the Living Grim, Courage: Courage Meets the Mummy, Courage: Night of the Weremole, KND: Operation TRICKY, Johnny Bravo: Frankenbravo, Dexter's Laboratory: Dee Dee's Room, Powerpuff Girls: Reeking Havoc, I am Weasel: The Power of Odor, Ed Edd n' Eddy: Honor Thy Ed. Amazon.com





We just love this DVD! It is great for both children and adults.
---
Monsters, Inc.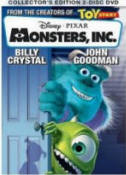 Monsters generate their city's power by scaring children, but they are terribly afraid themselves of being contaminated by children, so when one enters Monstropolis, top scarer Sulley finds his world disrupted.
The giant, blue-furred James P. "Sulley" Sullivan (wonderfully voiced by John Goodman) is a scare-monster extraordinaire in the hidden world of Monstropolis, where the scaring of kids is an imperative in order to keep the entire city running. Beyond the competition to be the best at the business, Sullivan and his assistant, the one-eyed Mike Wazowski (Billy Crystal), discover what happens when the real world interacts with theirs in the form of a 2-year-old baby girl dubbed "Boo," who accidentally sneaks into the monster world with Sulley one night. - Doug Thomas Amazon.com





A very clever "monster" movie with some adults overtones....very funny.
---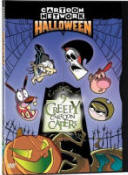 Cartoon Network Halloween - 9 Creepy Capers
Nine original Cartoon Network episodes, including The Grim Adventures of Billy & Mandy, Ed, Edd 'n Eddy, Courage the Cowardly Dog, Cow & Chicken, I A.M. Weasel, Dexter's Laboratory, The Powerpuff Girls, and Johnny Bravo. Amazon.com




---
Winnie the Pooh - Frankenpooh and Spookable Pooh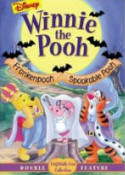 Frankenpooh - A spooky theme runs through several stories in this collection. "The Monster Frankenpooh" finds Dr. Von Tigger turning Pooh into a somewhat familiar-looking, scary creature. "Things That Go Piglet in the Night" features the characters on a ghost chase, and "Pooh Moon" finds Pooh and Piglet searching for honey while everyone else assumes they're missing--not just missing, but taken by the Grabme Gotcha. Charming visuals, terrific characters, touching stories. A winner. Amazon.com
Spookable Pooh - It's a rainy day, and Pooh and his friends are spending it in Christopher Robin's attic. Two stories from the delightful animated series follow: "A Knight to Remember," which finds the timid Piglet transported to a magical kingdom, where he fights a dreadful dragon, and "Rock-a-Bye Pooh Bear," in which Piglet has a nightmare and is afraid to go back to sleep. That leaves it up to Pooh, Rabbit, and Tigger to show how bad dreams don't have to come true. As always in the Pooh series, the animation is better than average for TV/video (and even charmingly quaint), and the characters are great fun to be with. - Tom Keogh Amazon.com




---
Pumpkin Season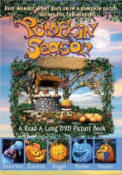 Pumpkin Season is a Read-A-Long DVD Picture book for children of all ages. It is a wonderful story about what goes on in a pumpkin patch during the fall season. Our story revolves around a cute little pumpkin named Reggie. He can't wait to go to the jack-o-lantern auditions and play pumpkin games at the seasonal patch parties. However, in pumpkin society you either qualify to become a jack-o-lantern, or you are kicked out of the patch and made into pie by the Bakerman!
Special Features Include: Your choice of male or female narrator (kids pick in the menu options). On-screen story text so children can read along. A picture gallery with a musical track featuring full screen images from the story, as well as bonus pictures not featured in the story. The illustrations are highly detailed and colorful 3D computer generated. Amazon.com




---
SpongeBob SquarePants - Halloween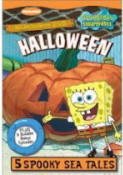 Halloween boasts a full hour of deep-sea spooks featuring Nickelodeon's jolly sponge with the cubical trousers. In "Scaredy Pants" easy-to-scare SpongeBob attempts to come up with the scariest costume ever--and exceeds beyond his wildest dreams. "Imitation Krabs" concerns Plankton's evil robotic plan to trick SpongeBob into revealing Mr. Krab's secret krabby patty recipe. "Frankendoodle," a spoof on Frankenstein, has SpongeBob drawing a self-portrait with a magical pencil he found. It proceeds to come to life, wreaking havoc all over Bikini Bottom. SpongeBob turns into a "snailcat" in "I Was a Teenage Gary" when he's accidentally injected with pet Gary's medicine. And in "Squidward the Unfriendly Ghost," SpongeBob and pal, Patrick the starfish, mistake his grumpy talcum powder-covered neighbor for a grown-up Casper. The educational value may be minimal, but the humor quotient is high in these five installments of the popular series. For ages 6 and up. - Kathleen C. Fennessy Amazon.com





Although not all episodes are Halloween-themed, each episode is "creepy". Even enjoyable for adults, as long as you like ole SpongeBob! We sure do!
---
What's New Scooby-Doo, Vol. 3 - Halloween Boos and Clues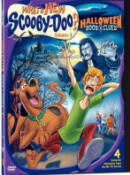 The third volume from the new hit TV series includes four fun and spooky episodes for Halloween. Vampire Strikes Back: The gang runs into a real life vampire in a Transylvanian castle Mummy Scares Best: The gang investigates a mummy on the loose in Egypt High-Tech House of the Future: The gang is trapped in a beserk automated house of the future at the Omaha World Fair She Sees a Sea Monster by the Sea Shore: The gang's tropical island vacation is ruined by a boat-smashing sea monster. Amazon.com





Typical warm and fuzzy Scooby-Doo storyline - always fun for the younger and older set.
---
Nicktoons - Halloween - Tales of Fright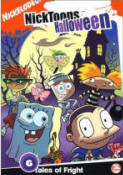 Our story is about a cute little pumpkin named Reggie. He can't wait to go to the jack-o-lantern auditions and play pumpkin games at the seasonal patch parties. However, in pumpkin society you either qualify to become a jack-o-lantern or you are kicked out of the patch and made into pie by the Bakerman. The Bakerman never makes pies out of jack-o-lanterns, but he has a big pie order to fill and now all pumpkins are up for grabs, especially Reggie. Reggie's courage unites the pie pumpkins and jack-o-lanterns to join together to defeat the Bakerman. The jack-o-lanterns finally realize the big or small, scary or not, they were all the same. And from now on all pumpkins will be Holiday jack-o-lanterns and treated as equals, thanks to Reggie. Amazon.com





---
Tales from the Cryptkeeper - Stacks of Fear
New Tales From the Cryptkeeper picks up where the 1990s Saturday morning cartoon left off--with animated versions of spooky tales that are less gory than their live-action counterparts. This first volume includes three hair-raising stories: "All Booked Up," "Town Gathering," and "Unpopular Mechanics." Amazon.com





---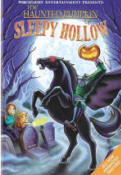 The Haunted Pumpkin of Sleepy Hollow
It's time to find a Halloween pumpkin in the pumpkin patch! Little do youngsters Nick and Kate realize that their chosen jack-o-lantern is haunted by the specter of the legendary Headless Horseman. Spooky and fun animated film for the tykes is inspired by the Washington Irving classic "The Legend of Sleepy Hollow." 48 min. Amazon.com





A very enjoyable movie that puts you in the Halloween spirit, even inspires adults!
---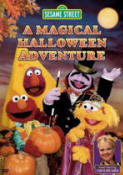 Sesame Street - A Magical Halloween Adventure
The setting is in a small street in a city where children and furry puppet monsters learn about numbers, the alphabet and other pre-school subjects taught in commercial spots, songs and games. Amazon.com
Boo.com rating:




Maybe we're sentimental about it, but you cannot go wrong with anything Sesame Street!!
---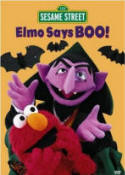 Sesame Street - Elmo Says Boo
A Halloween treat. Elmo visits fellow Sesame Street Muppet the Count in the latter's castle - and gets scared for a moment. But only a moment, as more friends from the television program show up, and jokes, songs, and surprises abound. Among the clever tunes: "Transylvania 1-2-3-4-5," "We Are All Monsters," "The Batty Bat" and "Frazzle."- Tom Keogh Amazon.com





How can you really resist Elmo and the Count costarring together in a movie??
---