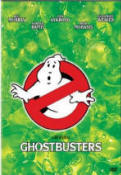 Ghostbusters
Three odd-ball scientists get kicked out of their cushy positions at a university in New York City where they studied the occult. They decide to set up shop in an old firehouse and become Ghostbusters, trapping pesky ghosts, spirits, haunts, and poltergeists for money. They wise-crack their way through the city, and stumble upon a gateway to another dimension, one which will release untold evil upon the city. The Ghostbusters are called on to save the Big Apple. Amazon.com






All-time great choice for both fun and some ghoulish entertainment. Safe for children. Love, love, love this one.
---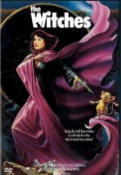 The Witches
This splendid adventure-fantasy from 1990 was adapted from Roald Dahl's book and directed by maverick British filmmaker Nicolas Roeg, who turned out to be a perfect interpreter of Dahl's fiendishly clever tale of witchcraft in contemporary England. Scary, funny, and wildly entertaining, it's all about a young boy named Luke whose parents have died in a tragic accident, and whose grandmother takes him to a posh hotel in England, where a secret coven of witches is holding its annual convention. The Grand High Witch (Anjelica Huston) has decreed that all children in England be turned into mice, and Luke and his pal Bruno are the first victims on the list. That's when the movie magicians from Jim Henson's creature shop have their work cut out for them, turning Luke and Bruno into clever little rodents and The Witches into a dazzling display of imaginative special effects, using a seamless combination of real mice and superb animatronic puppets. Although it was largely neglected during its brief theatrical release, this wonderful movie has since enjoyed a thriving appreciation on video. - Jeff Shannon Amazon.com





Excellent movie, can't go wrong with this movie. Ms. Houston is just great in this movie.
---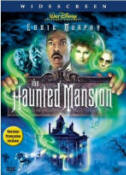 The Haunted Mansion
Lush production design and sparkling special effects make The Haunted Mansion pretty to look at. Terence Stamp, as a malevolent ghost of a butler, provides a suitable air of menace as dematerializes to and fro. Marsha Thomason is lovely as a real estate agent hired to sell a haunted mansion, but in truth the ghostly owner of the mansion believes she is the reincarnation of his lost love. Wallace Shawn and Dina Waters make a modestly amusing comic pair as a ghostly husband and wife who bustle about. Jennifer Tilly, as a green disembodied head in a crystal ball, glitters appropriately. Amazon.com





Fun movie with Eddie Murphy - kids will like him. Has an interesting storyline and some safe humor incorporating Disneyland's park ride's elements....the floating musical instruments, a fun scene!
---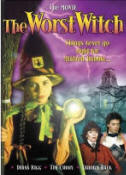 The Worst Witch
Based on Jill Murphy's book, this charming movie is set in an English boarding school for witches--complete with orange and black school uniforms, broom-flying exercises, and potion assignments for lab. The incompetent student of the title, Mildred, is played by a fetching young Fairuza Balk. Diana Rigg is the nasty head teacher, Tim Curry the idolized Grand Wizard, and TV's Facts of Life maven Charlotte Rae does double duty as the school's kindly dean and her evil witch twin, who's bent on taking over the school. Preteen girls will identify with the beleaguered heroine who overcomes her wickedly snooty rival, a teacher who doesn't believe in her, and a band of dastardly witches and, of course, saves the day. - Kimberly Heinrichs Amazon.com





A sentimental favorite! Very entertaining movie.
---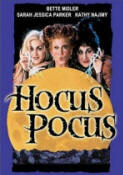 Hocus Pocus
You're in for a devil of a time when three outlandishly wild witches -- Bette Midler, Sarah Jessica Parker, and Kathy Najimy -- return from 17th-century Salem after they're accidentally conjured up by some unsuspecting pranksters! It's a night full of zany fun and comic chaos once the tricky 300-year-old trio sets out to cast a spell on the town and reclaim their youth -- but first they must get their act together and outwit three kids and a talking cat! Loaded with bewitching laughs, Hocus Pocus is an outrageously wild comedy that's sure to entertain everyone! Amazon.com




Fun and cute, especially for children. Not the greatest for adults!
---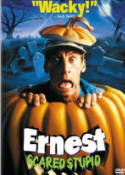 Ernest Scared Stupid
Everybody's favorite know-it-all, Ernest P. Worrell, scares up heaps of hilarious laughs in this frightfully funny comedy! The loveable lunkhead is in for a devil of a time when he accidentally unleashes an evil demon from its sacred tomb, causing the awakened foe to go on a devastating rampage. Ernest desperately attempts to prevent the destruction of town, but a 200-year-old curse renders Ernest Scared Stupid! And that's when the fun and adventure begin! Loaded with uproarious hilarity, and a host of outrageously kooky characters, this big-screen treat delivers off-the-wall nuttiness that's sure to drive you wild any time of the year! Amazon.com





Don't ask why, but this is one funny and entertaining Halloween movie! Call us stupid!
---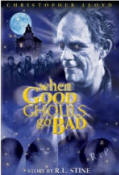 When Good Ghouls Go Bad
A 12-year-old moves with his newly divorced father to Dad's hometown and confronts the usual bullies, town curses, and rampaging by the undead in this screen adaptation of the R.L. Stine juvenile novel of the same name. Danny's first introduction to Walker Falls is the police removal of his spooky door decorations because Halloween is forbidden in this All Hallows' Eve answer to Footloose. To make matters worse, his grandfather (Christopher Lloyd) dies in a pumpkin accident and comes back as a goofy zombie ready to help Danny and his new (girl)friend solve the town mystery. Packed with lots of gross-out zombie action and plenty of junior high humor, this PG-rated film contains mild horror scenes, but no naughty words and one innocent kiss. (Ages 9 and older) -- Kimberly Heinrichs Amazon.com




---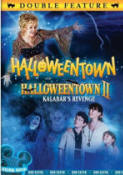 Halloweentown/ Halloweentown II - Kalabar's Revenge
In a place called Halloweentown, good and evil look very different than one might expect. Thanks to a visit from Grandmother Aggie (Debbie Reynolds), Marnie and her family's tradition of ignoring the Halloween holiday are about to change in the extreme. It seems that Marnie's mother Gwen has been hiding a big secret from her three children - all of them possess supernatural powers. Now that it's Marnie's thirteenth birthday, she must begin her training as a witch or lose her powers forever.
Halloweentown II takes place two years after Halloweentown and finds Kalabar's son bent on revenge. Marnie has matured as a witch, but her powers are pushed to the limit in a desperate effort to triumph over an evil curse in order to save Halloweentown, her family and the human world. This is good Disney Halloween fun with nice costuming and special effects, a wholesome message about the power of family, cooperation and perseverance, and ghouls that, though creepy looking, aren't likely to inspire nightmares in younger family members. (Ages 5 and older) -- Tami Horiuchi Amazon.com




Very Disney, very wholesome - great for young children!
---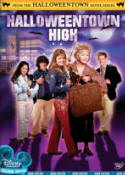 Halloweentown High
Back to school's never been so cool or supernatural for Marnie (Kimberly J. Brown), her grandmother Aggie (Debbie Reynolds), and her family of witches in this latest chapter in the ever-popular series of Halloweentown movies. When Marnie convinces the Halloweentown Council to send several teenagers to her high school in the mortal world, she even promises to give up her magic if any harm comes to them. But soon, Marnie and her new friends are in trouble and out of luck when the evil Knight Of The Iron Dagger appears. He's determined to destroy all things magical, and it's up to Marnie to save her high school, the human world, and her magic. For a bewitching good time, Halloweentown High is the perfect treat. (Ages 5 and older). Amazon.com




---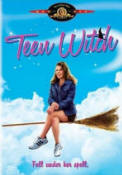 Teen Witch
Louise is not very popular at her high school. Then she learns that she's descended from the witches of Salem and has inherited their powers. At first she uses them to get back at the girls and teachers who teased her and to win the heart of the handsome footballer's captain. But soon she has doubts if it's right to 'cheat' her way to popularity. Amazon.com




Fun and romantic coming-of-age movie with a "witch" theme. Not too "Halloweenie." But we really like it!
---