---
The zombie has been in gloriously exalted in pop culture for some time. Zombies are everywhere! They can be seen in movies, cartoons, books and comic books, as well numerous video games. Ahh yes...nothing like decapitating a zombie.
The following is a sampling of zombies seen in pop culture.
Pop icon #1 - Thriller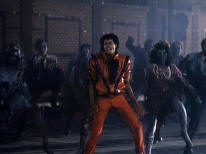 Whatever your opinion of Michael Jackson is – bad or tolerable, his 14-minute long music video Thriller does kick ass. It debuted on MTV in December of 1983 and is considered the best and most popular music video of all times. Homage to both zombies and werewolves - when the full moon appears, Jackson changes à la werewolf. However, he sort of looks like a mutant zombie-cat (below). Leave it to Michael Jackson to do what he wants.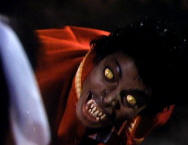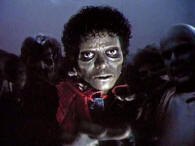 Were-Jacko Presto - now a zombie!
Directed by John Landis, of An American Werewolf in London, Thriller contains elements of Night of the Living Dead (what zombie movie does not?) and The Wolf Man.
The crowning touch to the video is Vincent Price reciting the following lines as the undead begins breaking free from their graveyard tombs:
"Darkness falls across the land
The midnight hour is close at hand
Creatures crawl in search of blood
To terrorize y'all's neighborhood
And whomsoever shall be found
Without the soul for getting down
Must stand and face the hounds of hell
And rot inside a corpse's shell
The foulest stench is in the air
The funk of forty thousand years
And grizzly ghouls from every tomb
Are closing in to seal your doom
And though you fight to stay alive
Your body starts to shiver
For no mere mortal can resist
The evil of the thriller."
The most memorable part of the video? Jackson and his crew of zombies dancing the night away. That choreographed scene has been spoofed countless times. You can always count on a character spoofing a zombified Michael Jackson in his red-shoulder-padded leather suit. The following is just a few references:
South Park's Pink Eye – Chef turns into a zombie wearing Jackson's red leathers with zombies dancing in the background

The Simpsons – In Halloween episode, Treehouse of Horror III Bart and Lisa mistakenly resurrect many of Springfields finest from their graves in attempt to resurrect their dead cat Snowball. (Hey, a little bit of Pet Sematary homage) Bart uses a magic spell to raise the zombies and wears Jackson's Thriller album on his head for the ritual.

Jennifer Garner's character in 13 Going on 30 dances to Thriller on the dance floor imitating the zombie moves quite well in fact.
---
Pop icon #2 - South Park's Pink Eye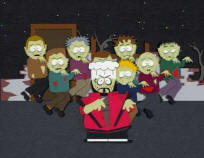 Of course the boys from South Park are going to have their hands at poking fun of Thriller. Now how does Thriller and its zombies invade the peaceful town in Colorado?
Space station Mir falls out of the sky and kills, who else but Kenny. He is then brought to the morgue, drained and waiting to be embalmed. Worcestershire sauce accidentally falls into the embalming fluid and gets into Kenny turning him into a zombie! A-1 Sauce will not do. Kenny breaks free after biting the two coroners. Oh oh.
Kenny meets up with his pals at the bus stop and they all eventually go trick-or-treating as normal. However, Kenny keeps biting people before they can give them treats, so they ditch him.
The two coroners had been diagnosed, not with zombism, but with pink eye. And it's spreading. Chef is the one to realize it's not pink eye but a case of the zombies. Unfortunately, he gets bitten and becomes a zombie himself - and falls into a parody of Michael Jackson in Thriller. The only way to cure the zombies is to kill the original infected one - Kenny.
And of course, Kenny was killed not once but three times in this episode.